Short DYI guide to help you replace broken glass on your G300.
This repair costs about $ 100 in official repair shop, unofficial is about $ 60. It's far too much for phone that costs about $ 180 (in the Czech Republic).
So I used replacement glass with frame from eBay which costs $ 18.
There are also cheaper glasses on eBay, even ones without Huawei logo, but then you must find some gasket, glue it to the old frame… It's simpler to replace whole frame. It will also look better.
What will you need
New glass from eBay (this is the one I bought but its listing has ended) – package also contains small torx T5 screwdriver and guitar pick for disassembling plastic parts. Notice that some of them even doesn't have Huawei logo. I have no idea if there are any differences in quality.
Torx T5 screwdriver (see above).
Small cross-point screwdriver
Heat gun (or hair-dryer).
Tweezers come in handy.
Dust free room. – It's really good idea to disassemble phone in place where is no dust. Otherwise you can get dust between display and glass.
Few warnings
You'll lose warranty. But you probably already did because you broke your glass (according to info from Vodafone shop).
I don't guarantee I didn't forget something, so be cautious when disassembling, use your own head. Check your progress with this video to see if you're doing it right.
Watch out for shards. It's glass, it could cut you. 🙂
I don't take any responsibility for any damage on your phone. You are doing it on your own!
Disassembling
Remove plastics from the back of the phone according to this video, using torx screwdriver and guitar pick (or something similar).
Now you reached back of the motherboard.
Note: I recommend checking video before every step, so you'll see what can you expect and you won't tear something off.
They disconnect all connectors in video but it's needless. You have to disconnect only the one marked with red circle. You won't disassemble upper board.
Unscrew green screws using small cross-point screwdriver.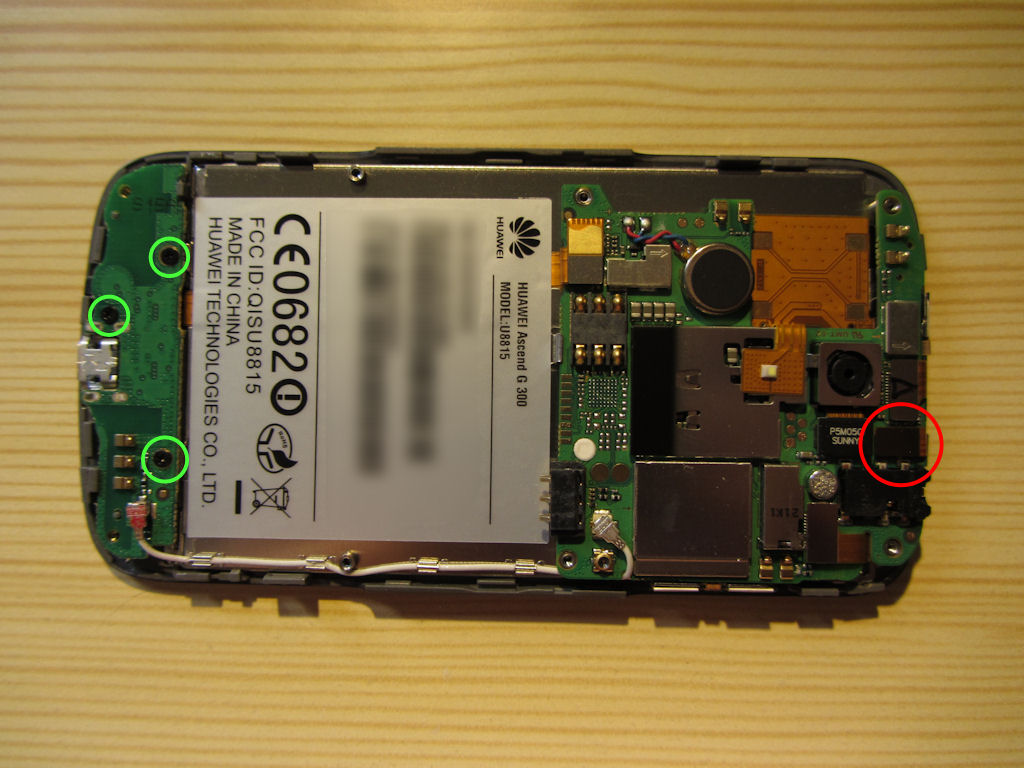 Detail on small screws. Detach red holders to loose power-board.
Tilt power-board off a bit. You don't have to disconnect blue connector but it'll probably fall off anyway.
When you'll be putting phone back together, make sure it is connected. It was the most difficult part for me. 🙂
Now lift off display using screwdriver under metal holes.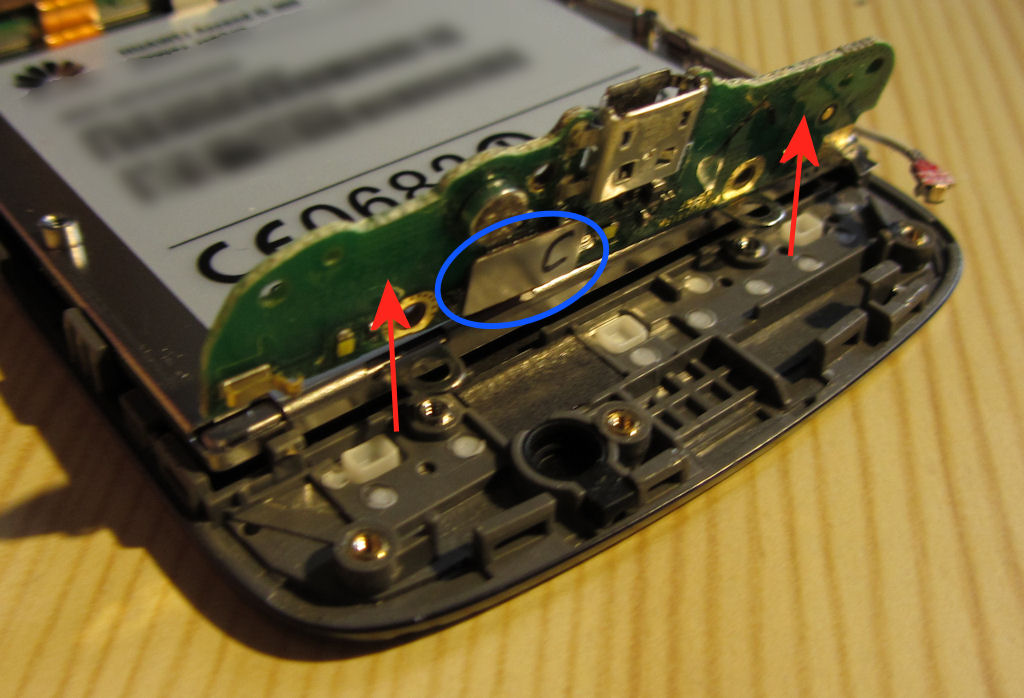 Do the same thing on the upper side of phone. Once again I marked red the only one connector you have to disconnect.
Be careful about power switch. Don't tear it off (like fellow on MoDaCo)!
Now lift phone off from front frame along by the top edge.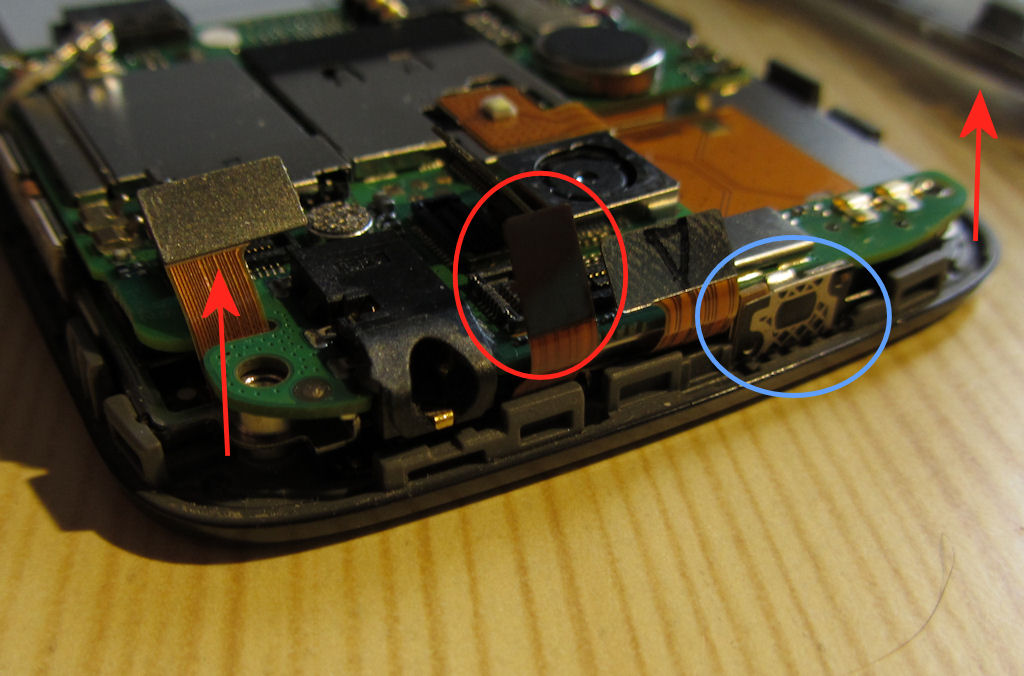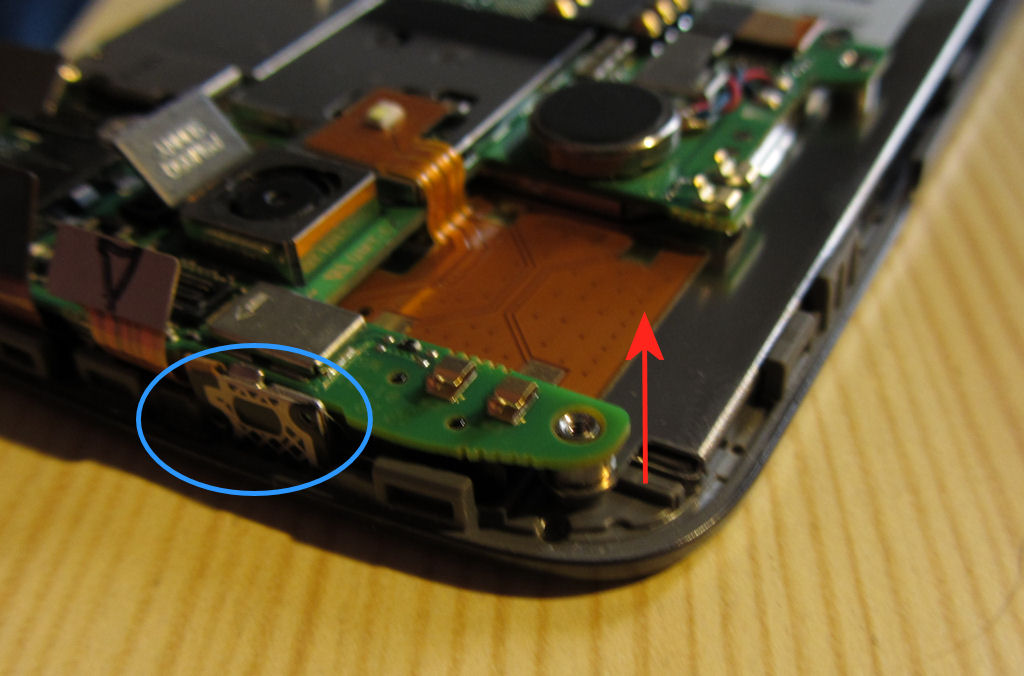 Now deal with that power switch. Heat it using hair-dryer and unstick using tweezers. It is glued using some kind of adhesive tape. You can either keep it and use it with new glass, or throw it away and use your own tape if you have some.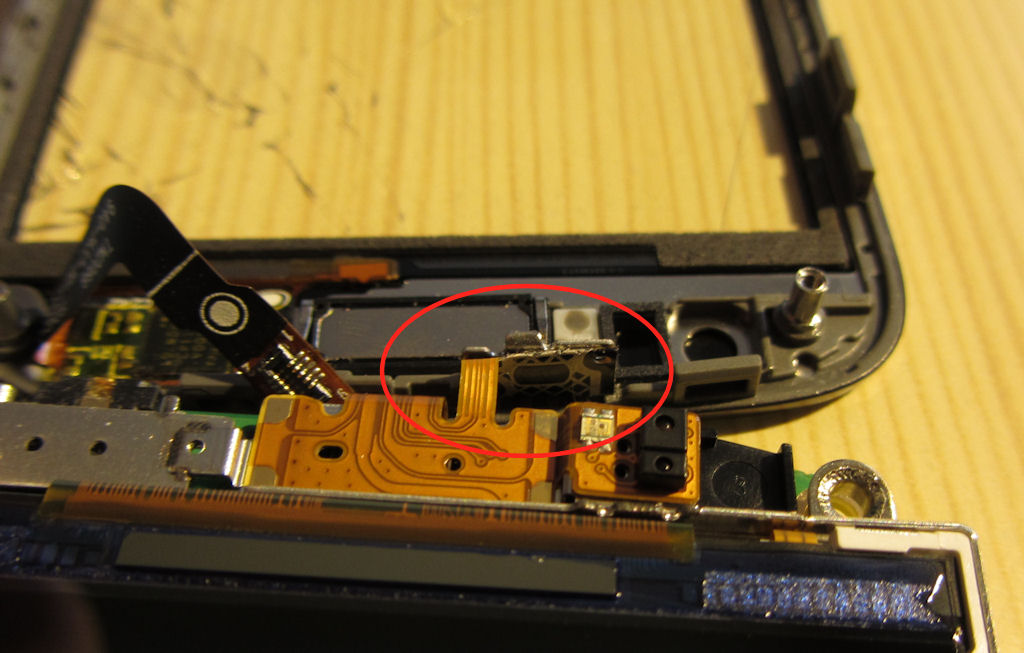 You have successfully removed old frame with glass from phone's body. Now place the new one!
Assembling procedure is similar, only backwards. 🙂
Update: As mdwsmith notes in comment section, make sure white aerial cable is aligned right and not covering hole or being pinched when screwing phone together.
Be aware of dust. If it fall between display and glass, it'll bother you forever. Same for fingerprints.
Also make sure you don't forget any disconnected connector to be connected back again.
I wish you good luck!
Update: Removing glass from frame
I took few pictures for those who wants to replace glass without frame.
Procedure will be pretty individual because it depends where you glass is broken and how much.
I sticked old foil on the display. It's good if you don't want to have shards of glass everywhere.
In beginning, I heated bottom side of the frame (where sensor keys are) for about 30 seconds. I recommend to start on the side with less cracks.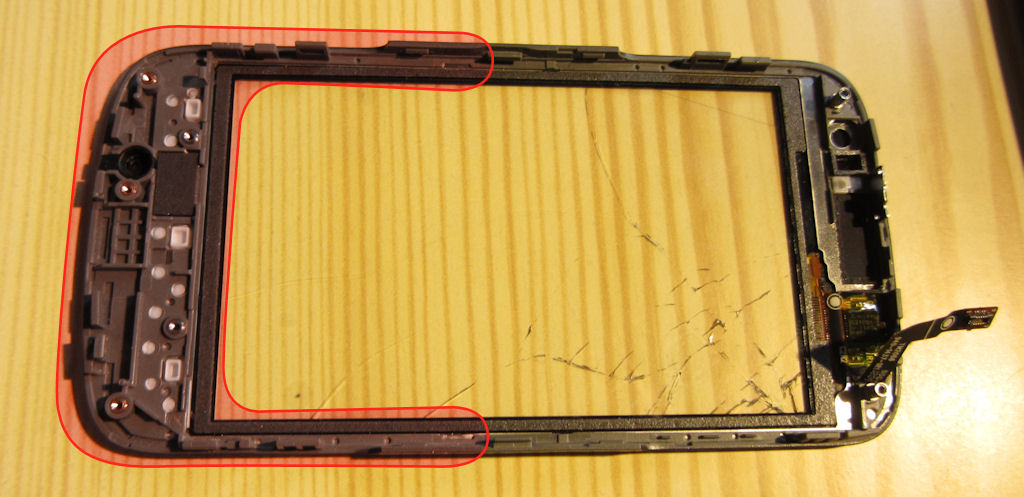 I slightly pushed glass outside of the frame. Then I sticked guitar pick into space between frame and glass to loosen adhesive a bit more.
I recommend heating frame before every step.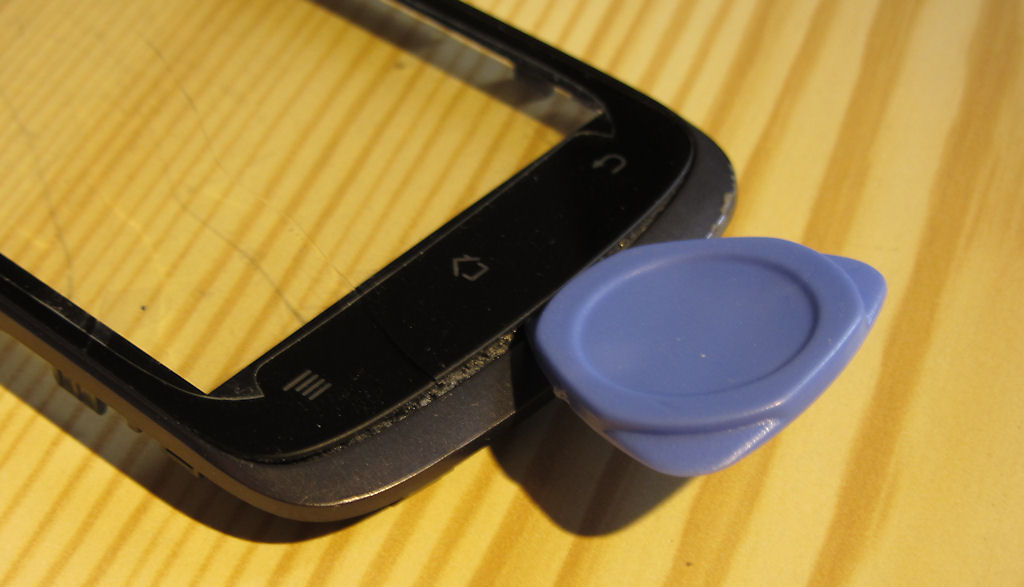 It's easier to pry glass open from inner side.
You can't do very much in places with cracks. Glass instantly disintegrates into shards.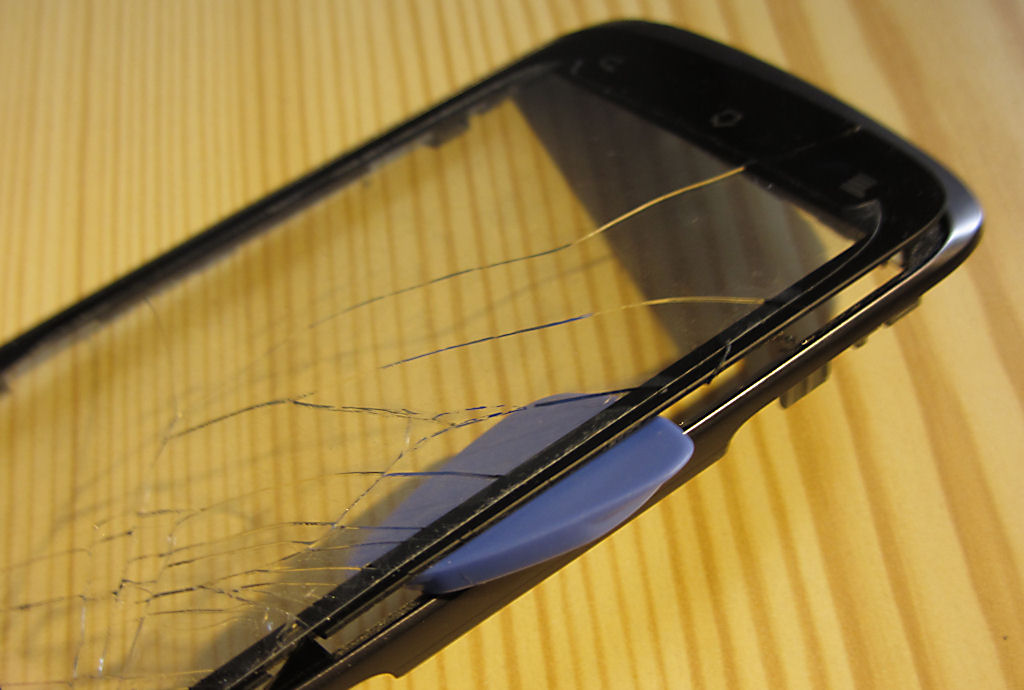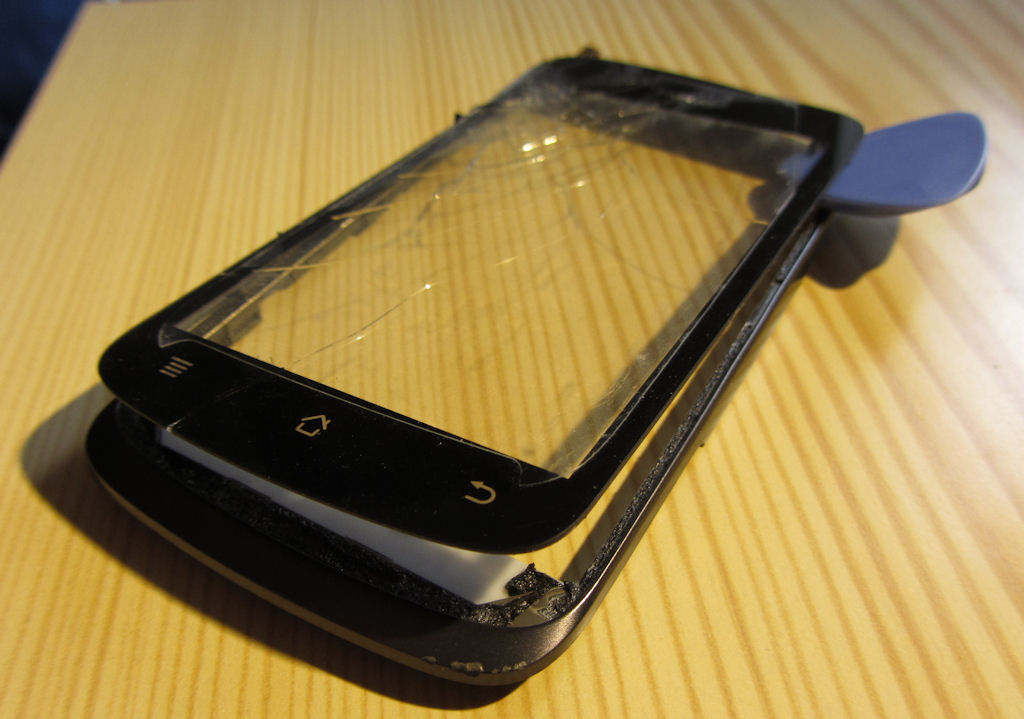 There's small chip connected to the digitizer inside of the upper side of the frame. You have to unstick it too.
If you're starting with glass removal on this side, best solution is bend it or even cut it off so it won't hold glass from both sides.
There probably remain shards in the "point of impact". Be careful when removing them.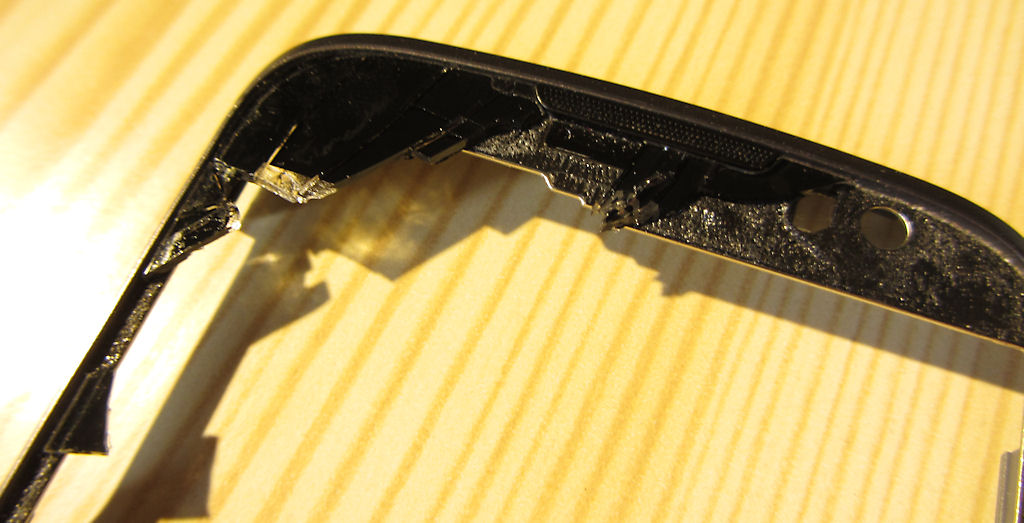 If you're going to order only glass from eBay, there probably won't be any gasket and adhesive to hold it on place (read item description, some sellers might provide these). I have no idea where to get these.